Updated to incorporate the regulation changes for 2022.
With a possible top speed of 356kph (that's about 220mph for you non metric folks) your brakes are probably pretty important to you.
Not to worry.
With Italian company Brembo onboard since 1978 they've got our boys in leather covered.
So let's take a look at what makes Brembo's brakes capable of being MotoGP's stopping power of choice across the entire grid.
What are they made from?
For those new to this technical stuff there are four main components to the braking system:
Discs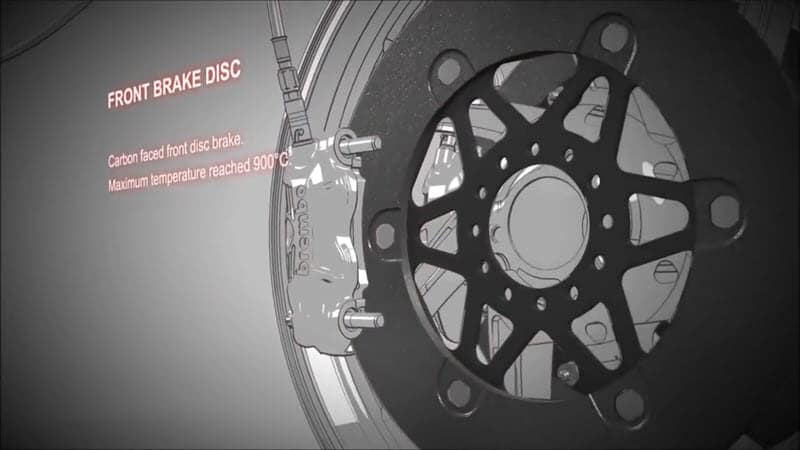 Pads
Calipers
and Master Cylinder
Brembo manufactures both the discs and the pads from carbon which can provide some serious stopping power and consistency throughout an entire race.
Recent statistics show these brakes allow a MotoGP bike to go from 300kph to under 100 in about 5 seconds using only 300m of track.
This does equate to less durability with carbon brakes only lasting about 1000 kms.
Before the use of carbon, the discs were steel and the pads an organic material.
There are several differences when using the carbon discs and pads over the traditional steel including weight, temperature issues and durability.
For example, carbon pads weigh just 50gm each (2 per caliper) compared to the organic material brake pads which weigh 125gm each.
Brembo's braking systems also include the master cylinder and calipers. The calipers are machined from a block of aluminium providing consistency in structure and performance.
Levers allow the rider to apply brakes but also allow them to make some adjustments as they are riding.
Brembo also provide the popular thumb master cylinder system.
What is a thumb master cylinder system?
This basically makes it possible for the rider to use the rear brake with their thumb via a small lever on the left handlebar.
This was originally developed in the 90s to assist Mick Doohan following a serious injury to his right leg which saw him unable to operate the brake lever with his right foot.
It has been used over the years by other riders following injury including Rossi in 2017.
Many riders use it as a type of traction control in certain braking conditions and it has proven beneficial for riders with larger feet during right hand turns to operate the brake with the lever instead.
It also adds another variation available to the braking system to suit each rider's personal preferences such as Dovizioso described recently while with Brembo's development team.
"The force you can apply with your finger on the thumb master cylinder is a great deal less than what you can apply with your foot. That is why I only use it when the bike is at the maximum lean angle."
He goes on to explain it is most useful to him when leaning right.
Other riders use this braking option to avoid skidding when cornering so it really does add to the personalisation of braking for the riders.
Temperature issues
There are differences in handling carbon brakes over the steel version when it comes to temperature. Carbon brakes need to heat up to the correct temp for optimal braking functions and consistency for the rider.
Once at their ideal temperature, between 200C and 800C, they are second to none in terms of performance – remembering above how quickly these types of brakes can stop these powerful machines.
Where a track puts a higher demand on the brakes and temperatures across the discs exceed this it can lead to deterioration of the brakes' performance.
Enter what is called a higher mass disc (340mm rather than 320mm and standard 27mm thickness or "high-mass" 37mm thickness) providing more surface area for the pads to make contact giving more durability on high demand tracks.
Currently, according to the rules of the FIM (Fédération Internationale de Motocyclisme), Motegi Japan is the only track where the riders must use the higher mass brakes.
However, unofficially several other tracks are known to be difficult on brakes such as Sepang, Red Bull ring and Catalunya. Phillip island's low temperatures (due to its location) provide the opposite issue and keeping temperatures up was the problem.
So if temperature is a factor what happens in cold or wet conditions?
Until recently it was an automatic return to steel discs and organic pads.
However, in 2017 Marquez won in Misano, Italy using carbon discs in the rain and dramatically changed the established view that riders should automatically switch to steel discs in the wet.
Just a few months later and we saw Dovizioso become the second rider to win and the first nine riders cross the finish line in Motegi, Japan using the carbon brakes in a very wet race.
Dovizioso proved it was no fluke when he won again in Valencia 2018 in the wet with carbon brakes.
It seems with the progression of technology and development from the Brembo team it is now possible to keep to the high-performance carbon brakes in the wet.
So what do brakes like these cost?
With a price tag of about $20,000 (that's without taxes and shipping mind you) for a set of brakes they are not your average purchase. Not to mention this style of brake is only available to MotoGP teams.
Teams purchase what is called a season package for around $120,000.
This package as outlined in the FIM rules is intended to cover the basic dry weather front wheel braking needs for one rider per season. As of 2022 there will be two options as follows:
What happens on high demand tracks? Enter what is called a higher mass disc (340mm rather than 320mm and standard 27mm thickness or "high-mass" 37mm thickness) providing more surface area for the pads to make contact giving more durability on high demand tracks.
However as of 2022 riders are given a third option with the newly released 355mm option. This change came at the request of Brembo and in agreement with the MSMA (Motorcycle Sports Manufacturers Association).
Brembo has also stated the new 355mm discs have superior ventilation and heat management to give even extra durability to riders.
According to the rules of the FIM (Fédération Internationale de Motocyclisme), certain tracks have a mandatory requirement for safety reasons, that the use of 340 or 355mm carbon brake discs are used when a Dry race is declared by Race Direction.
Motegi Japan is the only track where the riders must use the higher mass brakes.
As of 2022 Spielberg (Austria) and Buriram (Thailand) join Motegi (Japan) on the official of tracks which require the mandatory minimum of 340mm carbon brake discs be used.
Several other tracks are unofficially considered to be difficult on brakes such as Sepang (Malaysia) and Catalunya (Spain). Phillip island's (Australia) low temperatures (due to its location) provide the opposite issue and keeping temperatures up was the problem.
Where certain sizes or the higher mass brakes are mandated these are also included. Teams can purchase more brakes from the approved list throughout the season without limit.
Recently Brembo announced it has designed a version suitable for road bikes. They have no price tag yet and need careful maintenance but they will soon be available to distributors.
Relevant rules
There is to be no ABS.
ABS or Anti-Locking Braking systems are designed to prevent rear wheel lock up during braking and therefore maintaining contact or traction with the track surface.
When we let it sink in that these bikes do not have this feature it really is outstanding that they manage to complete a race at all!
FIM are very clear about this point in the rule book that the only input is from the rider manually.
There are allowances for them to have levers etc configured to suit the riders preferences and can use the brakes from the available options as they like but they receive no electronic assistance (hence Dorna unifying the software in the IMU and ECU to prevent teams creating settings that mimic ABS).
The IMU system is an inertial measurement unit and tells the bike what it is doing such as the pitch, yaw and acceleration.
It takes in data and measurements, sends the results to the ECU (electronic control unit)  which uses this information to help operate functions like braking control from the riders input, acceleration launch control and helps control wheelies
So, while they can use the rear brake at certain times to provide a sort of traction control it is quite astonishingly the skill of the rider and the set up of the braking system that allows for this.
An example of such braking skills is outlined in this statement given by Andrea Dovizioso leading up to the French Grand prix in 2018:
"If the rear [tyre] starts to lift then you have to ease pressure on the brake; this is bad. You have to try and brake hard and strong and if you have to let-off then you'll lose a metre. You have to push your weight to the rear of the bike as much as you can: if you use all your muscle strength you can stabilise the bike and brake to the maximum."
Rider Choices
Like with tyre options, riders can set up their brakes to suit their own style of braking.
At present they have about ten different options available to them where brakes configurations are concerned.
Brembo will work with the riders to develop ways to make the braking system as responsive to the rider's style as possible.
Not only is the rider counting on the brakes themselves, they are relying on the levers and brake lines to carry the messages correctly giving consistency and accuracy each and every time they pull that brake lever.
This is a very difficult demand for Brembo to deliver since the engagement point changes with the temperature of the brakes and, as Andrea Dovizioso points out he likes to have almost no play in his lever before the brakes engage and may adjust this up to eight times a lap to maintain consistency in his braking technique.
Dovizioso has used Brembo's brakes for over a decade and stated recently about his relationship with Brembo "Racing with an Italian motorcycle and Italian brakes makes getting good results even more satisfying."
So that's it.
The basics on Brembo's MotoGP braking systems and how they provide the stopping power for some of the fastest machines on the planet.
Now you can impress your fellow fans with your understanding of carbon braking systems in MotoGP.
Other articles you may be interested in: