Glamping Tents and Wood Cabins at the 2023 Silverstone British F1 Grand Prix
All Silverstone F1 customer reviews are located here
We have been able to secure a small additional supply of tents which are now available. We do now have motorhomes online as well. Our cabins are sold out.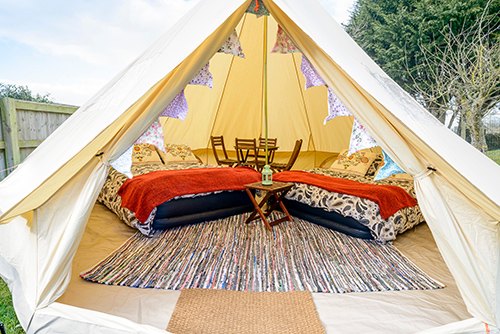 had a great stay couldn't ask for more the staff were very good and made us feel very welcome showers were good breakfast was nice all round top place
Staff is very nice and always helpful, thank you to everyone helping our stay a great experience. Robbie
You can enjoy our luxurious and spacious glamping bell tents for up to five people with all the trimmings at the 2023 British F1 Grand Prix at Silverstone.
We also have wood cabins for up to four people available for you.
Make your race weekend the most relaxing, hassle free ever by staying with us.
Let us be your trackside home from home!
Top specification inflatable single beds or double beds with sheets, duvets, high grade pillows and blankets
Wooden sturdy table(s) with up to five chairs
Bedside table and lantern or tea lights
Cosy rug and entrance mat
Towels
Icepack available at Reception
Fairy lights
Complimentary bottle of ice cold sparkling wine awaiting you (two bottles for four people)
In our wood cabin you will also have the following additional facilities:
Power (included in the price)
Mini fridge for your beer, wine and food (not for large items nor medication)
Fluorescent light
The cabin is lockable providing you with security for your belongings
Single beds only but with metal frame and real mattress. If more than two guests the additional beds will be bunk beds
You can see a photo gallery here
See our video section for 360 degree views of our glamping area as well as the interior of our glamping tent.
A family business. We have been trusted by thousands of customers since 2009.
For your British F1 Grand Prix you will also enjoy:
Long standing established campsite with excellent facilities (Whittlebury Park) right next to the circuit
Premium location at the campsite. This costs £290 (£390 with electric) but is already included in our price to you
A genuine leisurely 15 mins stroll to the circuit
Access to Whittlebury golf club's excellent showers and toilets*
Access to hairdryers and sockets (both male and female) in the golf club*
Up to a four night stay (Thursday/Friday/Saturday/Sunday nights) if you wish
Flexible payments. No need to pay for four nights if you only want to stay two nights
Option to pay just a 50% deposit now to secure your booking with the balance due 28 days before our campsite opens for the event
Our friendly staff on site 24 hours ready to help you with anything we can
Parking for one vehicle included in our price**
Your vehicle parked next to your tent (subject to the state of the ground)
Our "Recharge Tent" where you can charge your devices and there will also be a (free) tea/coffee station available all day
Electrical power to your tent (for low wattage items only). There are only a very limited number of tents available with this option which costs £75 extra in total.
Free unlimited cereal, toast, tea and coffee for breakfast
Free Breakfast Bacon sandwich (subject to availability)
We provide hot & hearty evening meals*** (subject to availability). Also lots of other food options on the campsite
Our Marquee with tables, seating, music and fun times
Licensed bars on the campsite. Free evening live music
Superb campsite entertainment over the weekend (details TBC)
Grocery shop on the campsite (TBC)
Great opportunity for photos and autographs as many drivers and teams stay at the Whittlebury hotel on site
*unless very adverse weather conditions
**there will be an additional charge for more than one vehicle
***Additional charge
Prices
All tent bookings are subject to an additional refundable damage/security deposit which will be automatically added when booking. For more details see our FAQ
We do not charge per person but we now offer the facility of adding an extra guest to our 2 person and 4 person glamping tents to give you more flexibility. For example, three people in our 2/3 person glamping tent for 2 nights costs £1039.
If the third or fifth person in the glamping tent is a child under 15 years of age (at the time of the event) then contact us for a special price.
Our wood cabins – you will need to specify when you book whether it's for 2, 3 or 4 persons. For example, 3 people for 3 nights costs £1579.
* We do have a very limited number of tents available with an electrical supply direct to the tent which costs £75 extra in total. Power is available as standard in our wood cabins.
Whittlebury Campsite Official Rating
In their very latest 2021 ratings, the campsite we use (Whittlebury) has again been awarded the highest possible rating of "Platinum".
The ratings are issued by the Silverstone Inter-Agency Campsite Sub-Group which comprises the environmental departments of the local county councils, the police and fire brigade.
"The 'Platinum' rating is reserved for those campsites that not only meet all our health, safety and welfare standards, but also go above and beyond the minimum requirements to ensure that their customers have the best possible campsite experience."