Luxury Glamping at the 2019 Le Mans 24 Hours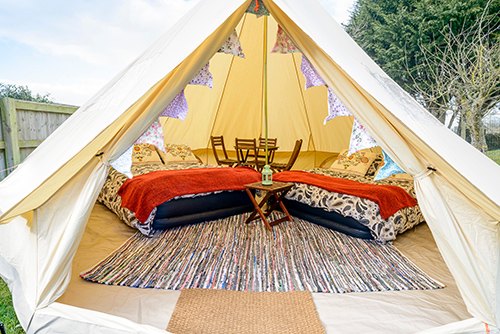 Glamping (short for Glamorous Camping) at the Le Mans 24 Hour race is the best way to experience the action, the excitement and the atmosphere. With quality accommodation trackside at Porsche Curves there is no better way to enjoy the ultimate test of driver and vehicle along with over 256,000 other fans in this truly historic race.
We have partnered with Lycian Events who are one of the leading specialist Le Mans travel companies (2019 will be their tenth year there) so that you can enjoy our luxurious and spacious glamping bell tents for up to four people with all the trimmings at the 2019 race.
Our location at Porsche Curves gives you a superb view and you will have all the facilities of our "Village on the Curves" there.
It is a totally inclusive, secure site.
Lycian Events can arrange the whole package for you including your return ferry crossings and circuit tickets and as a member of The Association of Bonded Travel Organisers Trust (ABTOT), you know your booking has financial protection.
Make your Le Mans 24 Hour race experience the most relaxing, hassle free ever by staying with us. Let us be your trackside home from home!
Queen size top specification intex inflatable double bed(s) with sheet, duvet, high grade pillows and blanket (single beds available if you prefer)
Wooden sturdy table(s) with up to four chairs and cushions
Bedside table(s), with lantern(s) & tea lights
Cosy rug and entrance mat
Towels
Fairy lights
See our video section for 360 degree views of our glamping area (at the British F1 Grand Prix) as well as the interior of our glamping tent.
A family business. We have been trusted by thousands of customers since 2009.
For your Le Mans 24 Hours you will also enjoy:
Long standing established campsite with excellent facilities hosted by Lycian Events at their "Village on the Curves" site
Fantastic location right next to the track at Porsche Curves.
Lycian staff on site 24 hours ready to help you
Your vehicle parked next to your tent (subject to the state of the ground)
Exclusive dining at Lycian's Café Virage
Exclusive use of the Lycian Events' Village
Cash bar with draught beers
Private serviced toilets and hot shower facilities
Secure fenced site with 24hr English speaking security
Access to mains power to charge your devices
Marquee with wide screen televisions to cover 24hr race
Free wifi in the marquee
Free shuttle bus operating to different parts of the circuit
Lycian Events Le Mans 24 Hours Campsite location
What do our Guests Think of Our Service at Sports Events?
Victoria Utting, UK (2018)
The intentsgp team went above and beyond to make our stay as comfortable and enjoyable as possible. We were able to park up by our tent on the Thursday and was instantly offered a welcome beer by Anthony. Made us feel totally at ease as this was the first time we had used a company like this. My other half had brought his bike and again Anthony went out of his way to make sure that the bike was secure with its cover offering us extra weight to keep the cover down on the bike due to the high winds we were experiencing. The toilets and shower area were clean and were always stocked with loo roll. We used the communal bbq which was fantastic. Breakfast was a total bonus....toast, cereal, juice and tea/coffee with the option of a bacon sandwich which was yummy! The whole experience for us was comfortable, easy and enjoyable. The staff even went out of their way to inform us of the time changes for the Sunday races. Thank you intentsgp team!
Our experience with IntentsGP on the IOMTT 2018 was great, very kind staff, willing to help with anything requested. Will definitively recommend it. Thanks guys.
Find Out More