Glamping Bell Tents For Hire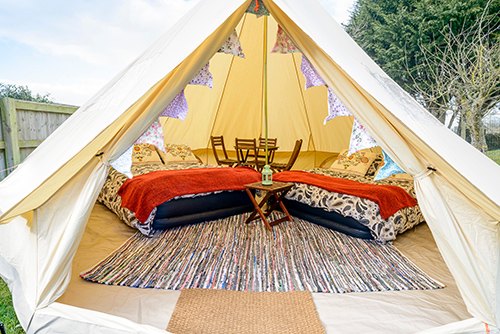 We are pre pitched camping and glamping specialists at major motorsport events and have been doing this since 2009.
If you plan to stay in the UK this year for your holiday but want something different, why not hire one or more of our luxurious glamping bell tents?
You can put this up in your garden and perhaps have a sleepover or take it to your booked campsite.
We are based in South Gloucestershire and can cover:
Bristol and Bath
Gloucestershire
Wiltshire
Somerset
South Wales
Or you can collect our equipment on the way to your destination (we are 10 minutes from Junction 18 of the M4)
How Does This Work?
You contact us for a specific quote based on your individual requirements and we can help and advise with any questions you have.
You pay the rental fee with a damage deposit.
You collect your easy setup lightweight 2 or 4 person glamping tent and equipment from us.
We will show you how to erect the tent (it's really easy) and inflate the bed if required.
Your package will include:
Easy setup lightweight 2 or 4 person glamping bell tent
High rise deluxe Inflatable beds, either singles or doubles or a mix of both, air pump if required
Large cotton rug and entrance mat
Wooden table and chairs
Solar powered lights and candle holder
In addition we can supply for you (prices on application):
Camping power cable for connection to the campsite mains power supply
Solar chargers for all your devices
A cooking station (collapsible gas BBQ or gas stove) with gas
Towels
If you don't want to take all your own bedding, we can supply bedding for you at £5 per person
You take all of the camping equipment with you to your destination of choice and set it up following our simple and easy to follow instruction video.
You return all of your equipment after your holiday to us for checking and we'll refund you the damage deposit.
To give you an idea of size, for a 2 person 4 metre diameter glamping bell tent the equipment weighs a total of approx 75kg and takes up around a 1 sq metre area and will be around 40cms high so you will need a big enough car to fit it in. To erect the tent in your own garden you will need at least 1 metre extra around the tent for the guy ropes.
The 4 person 5 metre diameter glamping bell tent just slightly more in physical size and about 85kgs. To erect the tent in your own garden you will need at least 1 metre extra around the tent for the guy ropes.
Prices
Prices for a 2 person (4m tent with one double or two singles) starts at £99 for 2 nights with £25 for each additional night.
For a 4 person tent (5m with 2 doubles or 1 double and 2 singles or 4 singles) the price for 2 nights is £149 with £40 for each additional night.
There will be a discount for booking multiple tents.
We can also deliver the tent(s) and set it up for you locally (within 20 miles) for an additional charge of £45.
Other delivery options are available so contact us for more information.
Photo Gallery
We put together a small gallery of photos of our 2 person and 4 person tents with both single bed and double bed configurations
Get a Quote from Us
If you would like a quote then please contact us or you can phone Antony on 0117 290 9009.