Glamping Tents and Camping at the 2021 Ferrari Racing Days  Race Weekend at Silverstone
17-19 September 2021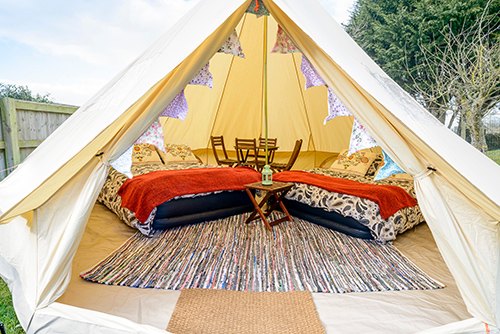 Below are guest reviews relating to our glamping tents at various 2019 motorsport events (F1, MotoGP & Classic).
Diane Symmonds, UK (2019)
So this was our first time Glamping and what a brilliant experience. The welcome we received was very warm and friendly and the guys took time to chat to us over a cold beer we received on arrival. The teepee style tents were simply lovely and looked more quaint at night when the outside fairy lights were lit. Inside the tent was bright, colourful and very clean. The recharge tent is where breakfast took place, also somewhere to recharge phones etc, and lockers but most importantly somewhere for people to gather and make new friends. We made the most of this one evening; there was around 12 of us at one point, just sat at benches having a beer and sharing stories. The facilities were really good, there was both permanent showers/toilets and some temporary ones too and both were good. The guys were around all the time if we needed anything. From a couple that haven't camped in over 25 years, we will most definitely be coming back....
We had a great stay with you for Silverstone MotoGP. The Glamping Tents were spacious and the staff were friendly and happy to help. Antony in particular was very cheerful and happily spent time chatting to us and our young lad. Thanks guys, we'll definitely comeback.
You can enjoy our luxurious and spacious glamping bell tents for up to four people with all the trimmings at the 2021 Ferrari Racing Days race weekend at Silverstone
We also have pitches for your own tent or caravan or motorhome/campervan.
Make your race weekend the most relaxing, hassle free ever by staying with us.
We are located at Whittlebury which is right next door to the circuit.
Let us be your trackside home from home in our lovely glamping tents!
Queen size top specification inflatable double bed(s) with sheet, duvet, high grade pillows and blanket (single beds available if you prefer).
Wooden sturdy table(s) with up to four chairs and cushions
Bedside table
Cosy rug and entrance mat
Fairy lights
Power to your tent
Fridge
Heater (hopefully won't be needed!
Free parking and your vehicle(s) parked next to your tent (subject to the state of the ground)
We can provide 13 amp power for your caravan, motorhome or campervan.
Our campsite for this race weekend is being run by our sister company Whittlebury Campsite.
For more information click on the links below
Whittlebury Campsite Official Rating
In their very latest 2019 ratings, the campsite we use (Whittlebury) has again been awarded the highest possible rating of "Platinum".
The ratings are issued by the Silverstone Inter-Agency Campsite Sub-Group which comprises the environmental departments of the local county councils, the police and fire brigade.
"The 'Platinum' rating is reserved for those campsites that not only meet all our health, safety and welfare standards, but also go above and beyond the minimum requirements to ensure that their customers have the best possible campsite experience."